Spirit Days
School will resume Thursday, January 18. We will have Spirit Days on both Thursday and Friday this week.

Our students on the varsity tennis team have been on a roll lately! This week they have faced off against Loyola and Captain Shreve and some top performances are as follows: Andrew Otzenberger has been outstanding in his singles matches...
#HomeOfChampions Congratulations to our varsity Boys and Girls Powerlifting teams on their outstanding performances at yesterday's state championship meet. The Boys team are STATE CHAMPIONS! Individual medal winners: Latarraus Jackson ...
Good luck to our high school powerlifting team as they compete in the state championship meet today! The following students qualified for the state meet: Girls- Allie Lazarus, Taylor Bell, Kailey Brookshire, Mya Evans, Aubrey Mayo, Cait...
We have to celebrate even more ACADEMIC All-State honors for Calvary student-athletes. In Boys' basketball, the following young men were named to the LHSAA Academic All-State team: Malachi Fitzwater Matt McDow Parker Brown Troy Davis Jr...
Did we mention that Calvary students are also pretty good when it comes to fishing? Cavalier teams take 1st (John Kyle Pearce/Jackson Gregory) and 2nd place (Thatcher Ellender/Noah Trant) at the North Louisiana High School Fishing Tourna...
#CavGrads continuing to achieve excellence in all walks of life! This time it's former Cavalier Jacob Talley with his dominance on the Pro Rodeo circuit. Last month, Jacob won the steer wrestling competition at the San Angelo Rodeo and t...
Attention parents of upcoming 7th and 8th graders who want to play football next season: There will be a players' parent meeting on Monday March 19th @ 3:30pm in the school cafeteria. Topics covered include: purpose, fees,...
Help us congratulate Calvary senior McKenzie Knotts on her selection to the Girls' Basketball Class 2A Academic All-State team. Only 29 girls from across the state were selected for this prestigious honor! McKenzie holds an unweighted GP...
Calvary graduate AnneMarie Kimball was named the NCAA Gulf South Conference Player of The Week! AnneMarie plays tennis for Mississippi College and she has won every single's match this season in straight sets with an impressive 9-0 singl...
#ChapelDay! To kickoff spiritual emphasis week, our students are very blessed to have the opportunity to hear from award winning author, speaker, and apologetics expert, Dr. Frank Turek. For more information on Dr. Turek, please visit:...
Building on Success
Discover college success at Calvary with our highly qualified teaching staff. Learn more about earning college credits through Louisiana Tech at the Calvary campus.
Dual Enrollment
---
Magnet-Enhanced Program and Curriculum
CBA has already begun implementation of its new standards-based, enriched program and curriculum. Through collaboration and professional development, teachers are continuously learning new ways to provide for academic rigor, and to incorporate critical thinking skills into daily lessons. We strive to develop our students' abilities to analyze, evaluate, and create – ultimately to think!

Our goal is to prepare our students not only to be competitive in our world's college and career domains, but also as described in Calvary's mission statement: "To be arrows of truth and light." With the support of new "BJU Press" materials, teachers will be prepared to aid Calvary students in their development of a biblical worldview perspective.
---
Experience Calvary
Here at Calvary, we also extend our growth outside of the classroom and off the court. Every week we join together in worship and fellowship. We also give back by serving our community and each other.
---
Visit Calvary Baptist Church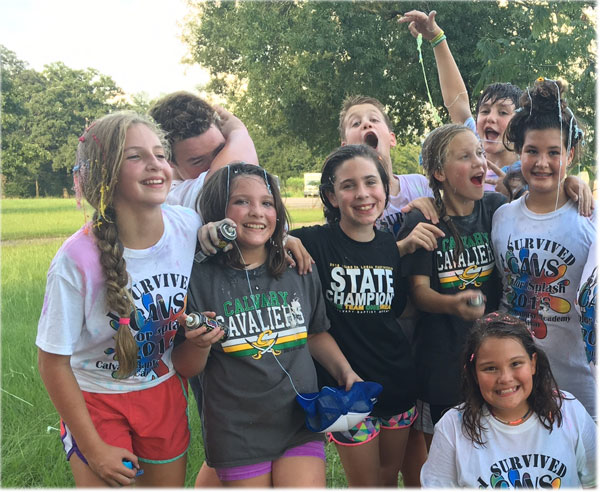 Apply Today
For more information about joining Calvary, see our registration packet for the 2018-2019 school year. Furthermore, if you would like a campus tour, please contact the school office by phone or complete the form on our contact page.
Enrollment