Calvary Baptist Academy
Experience all Calvary has to offer in building the whole child.
Educating leaders of tomorrow since 1970.
"To be arrows of Truth and Light."
     Spirit Day will begin Friday, Aug. 27. Students are to be in school uniform Friday, Aug. 20
     School Pictures, through grade 11, will be Wednesday, Aug. 25. through Bible Classes. Students will be in uniform.
     Back To School Night will be at 6:00 on Monday, Aug. 30 for Middle School and Tuesday, Aug. 31 for High School.
     We are looking for parents who are interested in working as a substitute teacher this year.  Please contact your child's grade level Principal if you are interested.
     K4-3rd grade -  Brenda Blue
bblue at calvaryshreveport.org
     4th – 6th grade - Tiffany Toups
ttoups at calvaryshreveport.org
     7th – 12 grade - Kevin Guerrero
kguerrero at clavaryshreveport.org
Softball: Softball game scheduled for Tuesday, March 10 has been rescheduled for Thursday, March 19 @ 5:00pm at Calvary.
Softball: Tonight's softball jamboree has been moved to Calvary - JV 4:30 V 6:00
Boys Basketball - On schedule: Tuesday, Feb 18 7:00pm @ Green Oaks - Change: Thursday, Feb 20 7:00 @ Green Oaks

Building on Success
Discover college success at Calvary with our highly qualified teaching staff. Learn more about earning college credits through Louisiana Tech at the Calvary campus.
Dual Enrollment
---
Magnet-Enhanced Program and Curriculum
CBA has already begun implementation of its new standards-based, enriched program and curriculum. Through collaboration and professional development, teachers are continuously learning new ways to provide for academic rigor, and to incorporate critical thinking skills into daily lessons. We strive to develop our students' abilities to analyze, evaluate, and create – ultimately to think!

Our goal is to prepare our students not only to be competitive in our world's college and career domains, but also as described in Calvary's mission statement: "To be arrows of truth and light." With the support of new "BJU Press" materials, teachers will be prepared to aid Calvary students in their development of a biblical worldview perspective.
---
Experience Calvary
Here at Calvary, we also extend our growth outside of the classroom and off the court. Every week we join together in worship and fellowship. We also give back by serving our community and each other.
---
Visit Calvary Baptist Church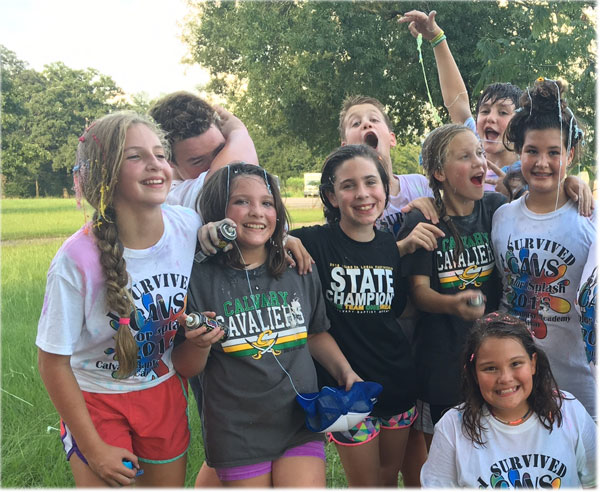 For more information about joining Calvary, see our registration packet for the 2021-2022 school year. Furthermore, if you would like a campus tour, please contact the school office by phone or complete the form on our contact page.
Enrollment